Hairdressers and Beauticians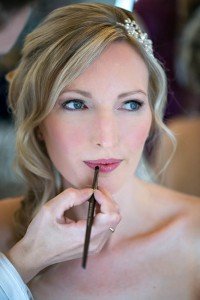 We work with local hairdressers and beauticians who all have experience in weddings. Explaining exactly what you would like can sometimes be difficult, even in your own language!
If you have a picture of how you would like it to be, we recommend you bring it along, so they can see exactly what it is you want.
Please note most hairdressers and beauticians are closed on a Monday in Italy but we can organise for them to open just for you and your guests.
Champagne Toast

After the ceremony, begin the celebrations in style with Italian champagne and canapés, either down by the lakeside or in the castle grounds itself. A lovely way for you and your guests to relax and chat to each other while you are having more photos taken, and to keep that relaxed party feeling to the day.
Transport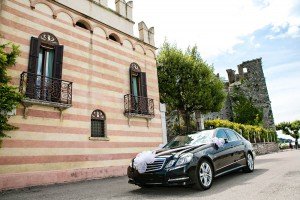 Boats, bridal cars, vintage cars, coaches…. whatever transport you need, be it to collect you from the airport, take you to the ceremony or on to your reception venue, it can be organized, for any group size or just for the bride and groom.
Boat Trips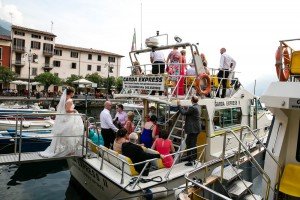 Surprise your guests with a fun hour long boat trip out on the lake, on a motor boat or sailing boat, and soak up the wonderful views and glasses of Italian champagne! A great way to show your guests the fabulous backdrop to your wedding.
Alternatively, why not take some time out for just the two of you with a chauffeured boat for two!
The choice is yours.
Cakes
Italian wedding cakes are completely different to the traditional wedding cake as we know it! They are made of sponge or puff pastry, filled with baker's cream and fresh fruit or chocolate chips, then covered with fresh cream.  Alternatively, they have a pastry base covered with custard cream and fresh fruit all over the top. They taste as wonderful as they look!
Favours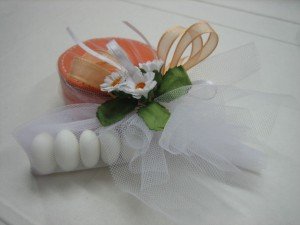 This is a tradition at all Italian weddings. Each guest is given a little lace bag or box with 5 sugared almonds symbolising health, wealth, long life, fertility and happiness. Inside the bag are the names of the bride and groom with the date of their wedding. You can personalise your favours, choosing the final touches.
Photographer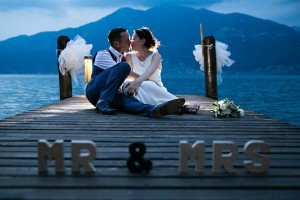 We have a fabulous English speaking Italian photographer who will capture those special moments throughout the day. He has an artistic eye for extra detail, when it comes to those unforgettable photos. His artist flair will ensure that the true magic of your special day is captured forever.
There are many different ways to show your pictures, including creating fabulous handmade "coffee table" style wedding albums, guaranteed to bring tears to your eyes!
Flowers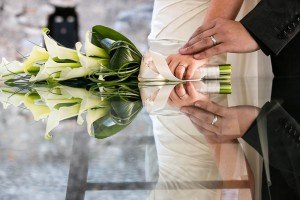 Flowers are a very personal thing and can create that extra special romantic atmosphere at your wedding, be it in your bouquet, at the ceremony or at your reception venue. Let us know what you have in mind (maybe send us pictures or photos of the type of bouquet or flower arrangements you would like?) and we can take these along to the florist and discuss it with them for you. Of  course, we'll also go and see them with you as well, once you arrive for your wedding.
(The flowers you have at the ceremony can also be taken and used at your reception venue, if you wish).more info here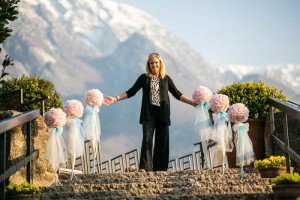 Flower Stands
Flowers are a very personal thing and can create that extra special romantic atmosphere at your wedding.
Flower stands are just one way to create an elegant entrance to your ceremony venue. After the ceremony these can then be taken to your reception location and used as flower stands or candle stands for a romantic atmosphere.
Music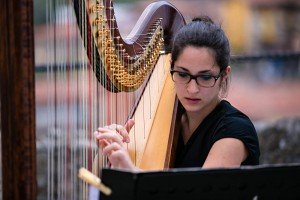 Professional musicians for a romantic atmosphere during your wedding ceremony.
Having music at your wedding ceremony will create the atmosphere you want for this special moment.
The choice is entirely yours – violin soloist, violin and keyboard, quartet, harp, operatic singer…
They will play as your guests wait for the bride to arrive, as the bride arrives, during the ceremony as you exchange rings, sign the register and as you walk down the aisle as husband and wife! They have a large selection of classical music and popular music in their repetoire so if there is a piece in particular that you would like them to play, then just let us know.
Professional musicians for the atmosphere you want at your wedding reception.
If you have exclusive use of the restaurant then you may want to have a deejay or a live band to dance the night away after the meal. Alternatively you may like to have some jazz or piano bar music played during the meal. The choice is yours.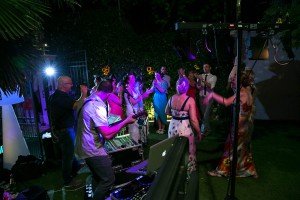 Reception Restaurants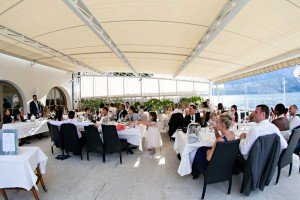 Lake Garda has a wide selection of restaurants to suit all tastes and budgets.
Prices start from as little as 60 euros per person up to around 150 euros per person, depending on the restaurant and the menu you choose.
Some things to consider when choosing which restaurant is best for you:
How many guests are you inviting?
Where would you like the location?
(lakeside, lakeview, outside terrace, garden setting..)
What type of decor do you like?
(ie elegant, modern, rustic, traditional, etc)
What type of food do you like & what is your budget?
Do you want the restaurant exclusively for you?
Do you want music during your reception or for dancing afterwards?
What time are you planning to arrive at the restaurant?
What time of the year are you getting married?
All our selected restaurants are able to cater for vegetarians, children and any special dietary needs you or your guests may have.
Accommodation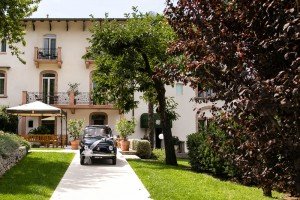 Accommodation for you and your guests on Lake Garda
Putting a local italian agent's contact details on your wedding invites is a great way to help your guests find and book their accommodation and at the same time allows you to not get too involved (if you don't want to)!
Booking through a local agent here on Lake Garda is generally cheaper than going through an agency in your own country as they don't have to inflate prices to cover possible exchange fluctuation.  They can also be more efficient than booking direct with a hotel, especially in the high season when hoteliers are very busy or during the winter months when many hotels are closed. In general, booking through a local agent, you will pay either the same price or less than if you went to the hotel direct.
Romantic Weddings on Lake Garda have chosen to work in collaboration with Ufficio Viaggi Garda as they have been established on the lake since 1955 as a family run business and have continued to expand whilst maintaining their excellent reputation. Pam first worked with them over 15 years ago and they continue to show great professionalism and a very high level of service. They have over 50 years of experience of organizing accommodation for both individuals and different sizes of groups and have built up a large network of collaboration  throughout the hotel world on Lake Garda to be able to offer perfect solutions for yourselves and your guests.
Please feel free to contact them direct by email on:
alessandro@gardareisen.it
L'Ufficio Viaggi Garda
Riva Del Garda office: 11/A Viale Martiri 28 Giugno, Riva Del Garda (Tn), Italy
Arco office: Via Santoni, 28, 38062 Arco (Tn), Italy
Tel 0039 0464 554018
Fax 0039 0464554476
Additional services:
They are also happy to organize airport transfers, excursions and  accommodation in other parts of Italy, for you and your guests during your stay.